VIRTUAL HSC STUDY BOOTCAMP
Monday 6th july – Friday 10th July
3:30pm – 7:30pm
train and prepare for YOUR HSC Trials at our Virtual STUDY Bootcamp!
Train for your HSC trial exams in a supportive and structured environment with access to a team of HSC experts across your different subjects!
Use your time effectively and efficiently, work with accountability, focus on your essay writing and exam technique, improve your understanding across your different subjects challenges and make daily progress in your HSC preparation!
Don't waste time this July Holidays!
The support received during my time at HSC CoWorks was unbelievable and made my whole HSC experience a lot smoother. I will recommend HSC CoWorks to anyone requiring HSC help as I believe the way it is structured is very professional and well catered to an individual's needs for them to excel in the HSC.
"The mentors at HSC CoWorks have been so helpful in helping me to achieve the marks I want. The online student portal gives me endless practice to ensure I know the content well! I would highly recommend this to any future HSC students who needs just that little bit of extra motivation and help to excel in this final year !! "
Stay Motivated, Have Fun, Conquer your HSC Goals!
How does it work?
Join our Zoom meeting each day at 3:30pm and you will be welcomed and placed into your own break-out room which is where you will work with our team 1-on-1 over the 4 hour session.

Our Coaches will support you develop an effective plan for the session which includes stretch & challenge tasks, exam training and support across your different subjects.

Work with the team and also make your own progress across a variety of tasks which will improve your understanding and support your readiness for the exam room.

Utilise our experienced HSC Markers for quick feedback on your written work.

Access 1000s of multiple choice, short answer, extended responses, challenges and memorisation games not only during the Bootcamp hours but 24/7 between Monday 6th and Friday 10th July!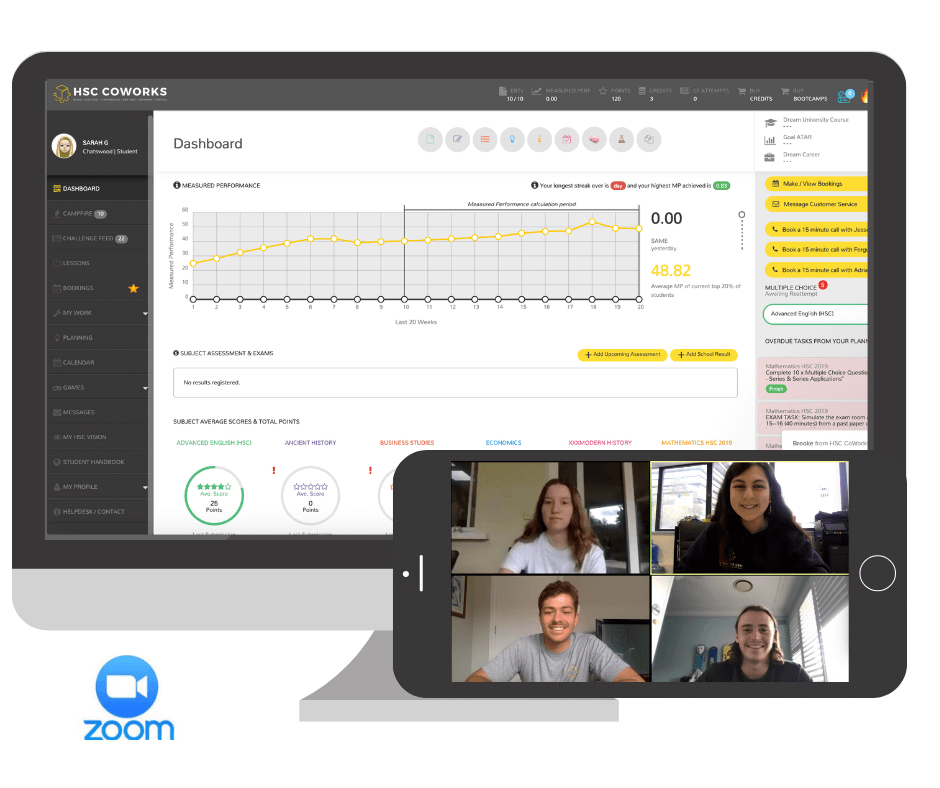 Monday 6th july – Friday 10th July
3:30pm – 7:30pm
Open for Year 12 Students only