There are several schools finishing very early this year, giving students 2 whole months of summer holidays.
Whilst we encourage students to have a bit of a break and re-group from a very busy Year 11 and 1st Term Year 12, these summer holidays are also the best opportunity that your child will have to get ahead and get on top of what is going to be a very demanding 2020.
Your child might be ready to call it quits on the last day of school, however we strongly recommend that they join the rest of the CoWorks cohort attending their sessions each week until the final session on December 12th.
You will no doubt hear from your child that there is 'nothing to do' now school has finished. In fact, there is plenty to do over 8 weeks when it is your HSC year!
Our recommendations for the Summer holidays
Consolidate your Knowledge
Plan
Get ahead
Read & Research
Develop a strong Vision/Goal for what you want to achieve in 2020
Work on Major Works
Consolidate your knowledge:
This is the best opportunity you will have to carefully and concisely review the topics which you studied in Term 4 and work with the Coaches in the areas which need improvement and where there are knowledge gaps identified. 
Plan:
7 weeks is a long time… but in between Christmas celebrations, family holidays, social gatherings and days spent at the beach, that time will quickly disappear.
Start your holidays with a strong plan for what you want to and need to achieve over the holidays. Use the Planning Pads and recommended tasks to outline what you will tackle each week and reward yourself for your efforts!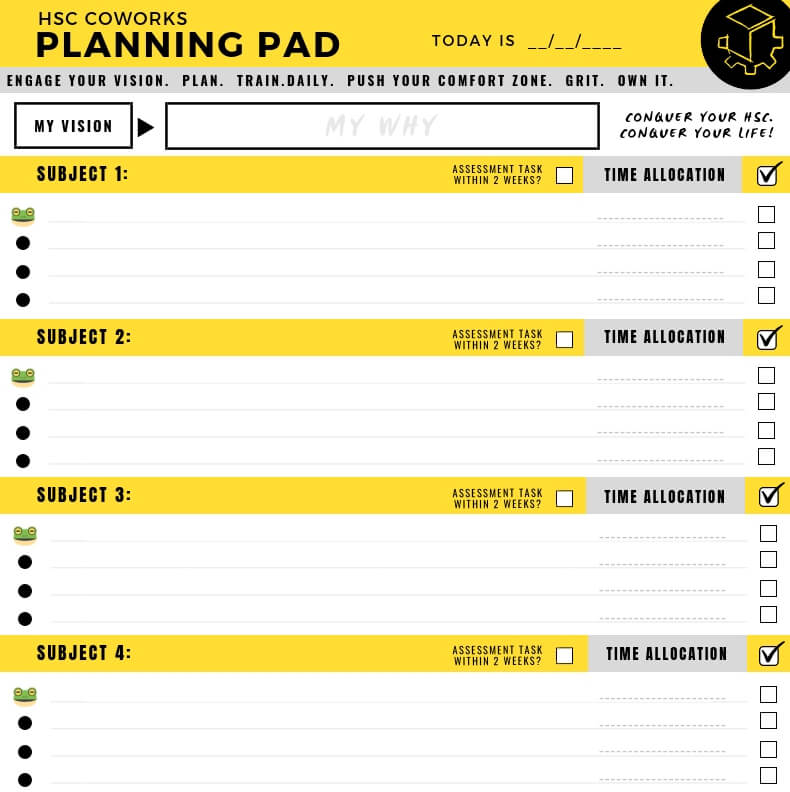 Get ahead of the pack:
Look ahead at next term's topics and texts
Read your English texts for 2020 and start engaging the coaching team and markers with your ideas and any early questions you have
Continue to engage with the HSC CoWorks Challenge Feed to test your knowledge under exam conditions in your covered topics and texts
Teach a coach about each of your upcoming topics based on your research
Review term 4 assessment tasks if you are given the school marks ahead of the holidays.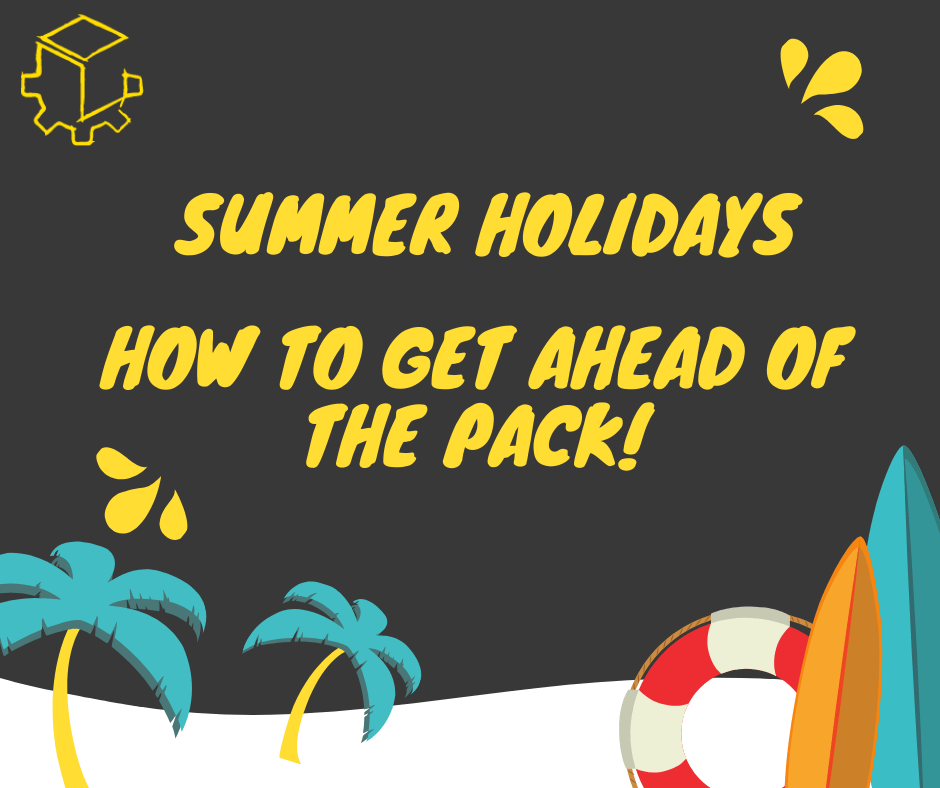 Exam Training:
With 75% of your ATAR coming from how you perform in the exam room, use this period away from the classroom and school commitments to complete lots of past paper questions via the Portal.
Utilise your sessions to engage the coaches with any questions you were unable to answer or are unsure how to approach.
Get Motivated:
Why would anyone choose to complete Maths practice questions or write a draft English creative when they could be at the beach??
Be strong about what you want to achieve in your HSC year. How good it will feel in 12 months time when you walk out of the exam room for the very last time and feel that you gave it your best efforts.
Use the holidays to develop your Vision Board (your energy source) and do some research into University courses or overseas opportunities. Everytime you sit down to study, envisage achieving that Vision and how good it will make you feel!
Only you can turn your HSC vision into your HSC reality. Remember that every student has the same amount of hours between now and the HSC. It is the student who utilises those hours effectively that will see the results.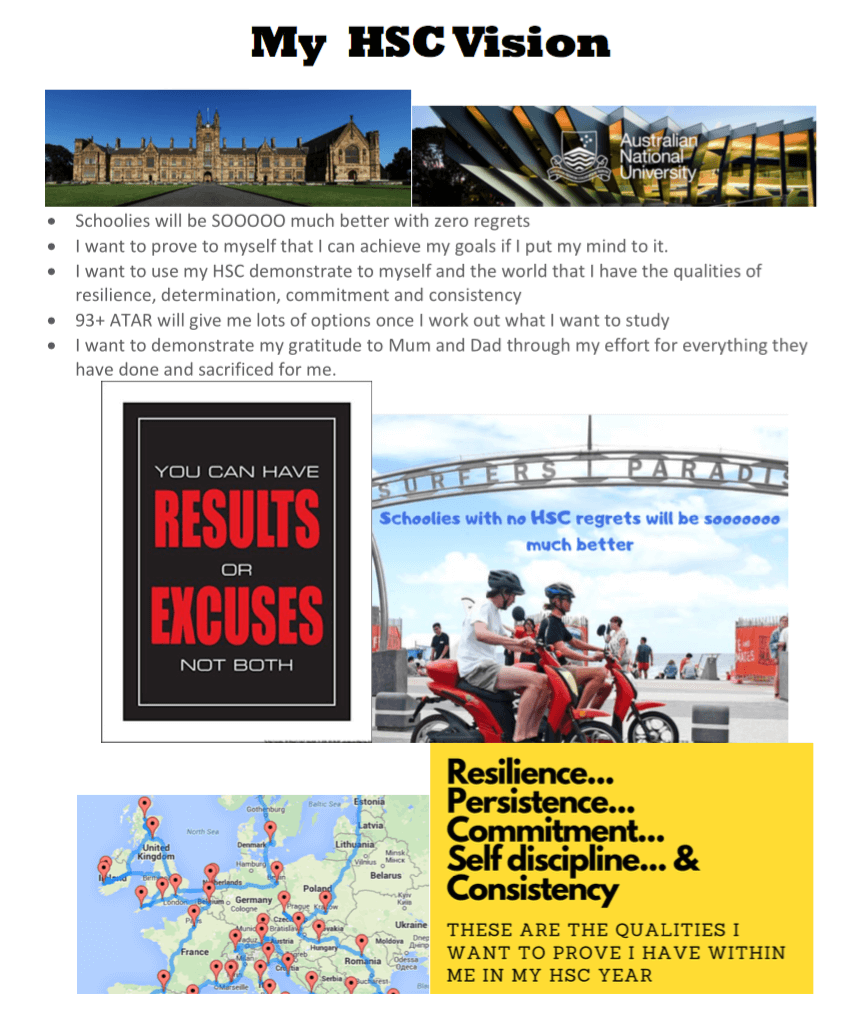 CoWorks Sessions:
Our Coaching team will be working with students in the final 2 weeks of this term's sessions to ensure that each student knows exactly what tasks they need to be working on in each subject and are aware of what is happening in the offices in January.
We close between December 12 and January 8 for sessions, however the online marking team will continue to mark and collaborate with your child via the Challenge Feed. No matter where in the World you are, if there is an internect connection there is no excuse for not completing webiste tasks. Do not kid yourself that everyone else is having a nice long break! We have students logging in from across the World making sure that they stay on top of what they need to and start the term feeling confident and in control.
When we come back on January 8th, the 2.5 weeks before school begins will be focused on getting the brain back into gear so that students hit the ground running in Term 1 2020 … as opposed to the countless students who will spend the 1st week or two of school dusting the sand off their feet after a nice long holiday!
So in summary;
Enjoy a break from the HSC for a couple of weeks around the festive season.
Don't waste the holidays and plan out what needs to be achieved for each subject.
Read ahead for next term's topics
Read your English texts
Work on your Major Work
Attend your CoWorks sessions for structure, support and accountability. Click here for times/dates.
Continue to utilise the online HSC markers for feedback across your subjects throughout the holiday period.