What will your future hold? What will your future career be?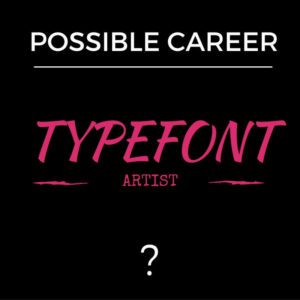 The good news is that there is no prescribed future career for anyone. The world is changing and it's changing so fast that careers are popping up in places no one could have predicted. How could anyone 10 years ago have thought that owning a podcasting network was even a possibility? How could anyone have considered a micro-brew business as a successful job?
The internet has opened up pathways for people to make money like never before. Sites like Pinterest, Etsy, and YouTube allow people to make a career based on their passions and creativity. And that's not even counting the freelancers offering their creative works to the highest bidder on sites like Guru or UpWork. What are some of the surprising careers that I'm speaking about?
Typefont Artist
A typefont artist is someone who crafts words and paints them or sells their works as art. The words are handcrafted and are beautiful and unique. As a career, a sign painter is resurging as a growing market. It used to be a thriving market 50 years ago for typefont artists. Now, as more businesses are looking to be stand out, a hand-lettered sign, menu, or advertisement is a popular choice.
Home Food Producers
There is an interesting trade in India for people who work all day but still want a home cooked lunch. The food is cooked at home and delivery men, also called food-wallahs, deliver the home-cooked meals to the men at their place of business. That idea is taking hold here as well. People crave food that is authentic, healthy, and nutritious. Enterprising home cooks offer a week's worth of homemade lunches delivered to their workplace every day. It's healthy, home-cooked, and personalized to taste.
Home Physical Therapists
It's not artisanal, but it is a career that is expanding. Imagine having the ability to work anywhere and everywhere by freelancing your physical therapy skills. People value a home service, especially those who can't get to a clinic. A home therapist visits clients in their home, working through their daily tasks and helping them recover from ailments or injuries. The job market is one of the highest growing markets, and the pay is exceptionally good.
Anybody can make a career out of anything. The internet and rapidly changing technologies make it easy to create a good job from something that didn't even exist 10 years ago. What will come next? Maybe you'll be the first to tell me.