So you're super excited about the summer holidays and so you should be because after these holidays are done, you've got some serious climbing to do before you can conquer your Mount HSC. It is important that you have a break and recharge the batteries however if you are serious about finishing the HSC with zero regrets you will need to get some solid work done before you start back at school in Term 1 (late January).
In each of your basecamp projects you will have a new to do list (displayed below). Some of these tasks are more onerous than others so make sure you do eat your frogs (complete the tasks you least want to first).
Some of the tasks have a comment within the task with more instructions on the task. Just click on the to do item to view the further instructions.
If you are studying a subject that we haven't mentioned in this list, please speak to one of the coaches next time you are in the office to see what tasks you could complete to support a strong performance in Term 1 and beyond.
Looking forward to seeing these tasks get ticked off your to do list over the next 8 weeks.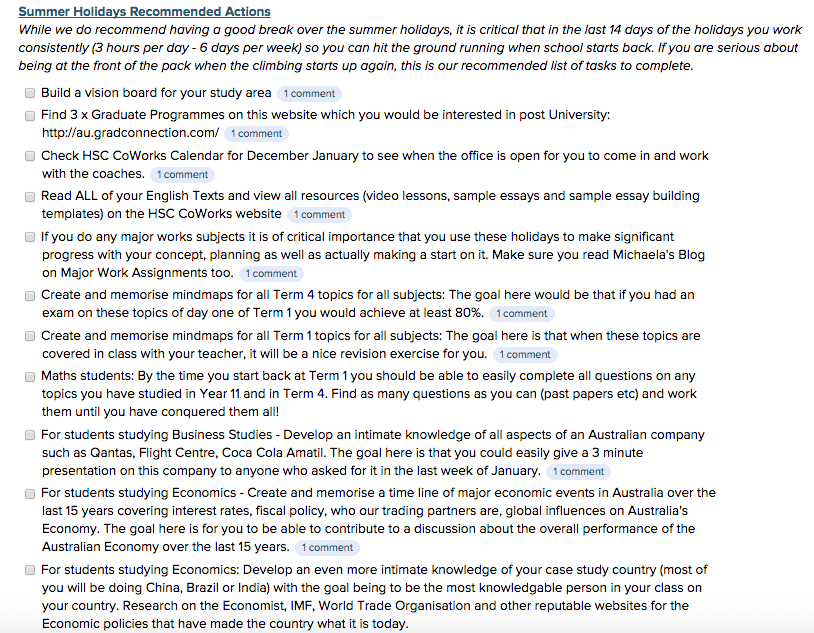 We promise that if you get through this list you will be in great shape for a strong Term 1 performance which will give you great momentum for the rest of your HSC campaign.