According to its website the Reserve Bank of Australia:
"conducts monetary policy, works to maintain a strong financial system and issues the nation's banknotes. The Reserve Bank commenced operations as Australia's central bank on 14 January 1960."
The RBA and what is does is highly important to the HSC economic course and can be examined in all four topics.
Here are some useful articles and websites:
1.
The RBA website : http://www.rba.gov.au/education/index.html
The RBA website is an extremely useful resource. It has up to date statistics as well as an education page, just for HSC students.
2.
RBA's Stevens Says He Doesn't See Need to Reduce Rates Further : http://www.bloomberg.com/news/2014-03-06/rba-s-stevens-says-very-accommodative-policy-boosting-housing.html
This article deals with interest rates and the flow on effects it has on the exchange rate, housing and other areas of the Australian economy.
3. $A at a 2014 high: http://www.smh.com.au/business/markets/currencies/a-at-2014-high–but-rba-chief-avoids-jawboning-20140307-34asy.html
This article looks at the trends of the exchange rate and its connection to what the RBA does
Make sure that you are keeping up to date with current affairs as the inclusion of these in your answers in the HSC is what will set you apart as a top student.
In other news, some data out of China this week further indicated a slow down which is not good news for the Australian Economy given China is our biggest export market (Coal, Iron Ore)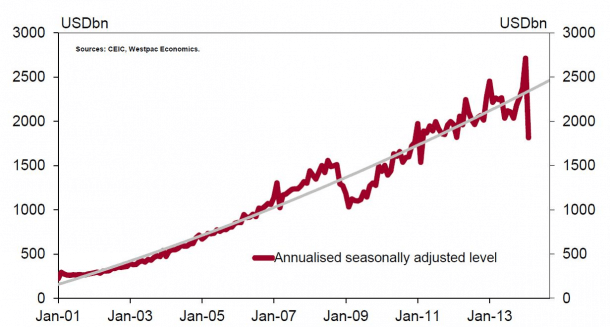 HSC CoWorks offers HSC Tuition and HSC Coaching in Sydney across a number of subjects including HSC Economics. Our team is made up of a team of HSC experts. Experienced HSC teachers, HSC markers, high achieving ex-students and certified life coaches. We have been a part of successful HSC campaigns since 1996 and in this time we have worked with 1000s of students as they have made the climb up Mount HSC® to get into their dream University course.