Australian Unemployment figure hits 10 year high
This week it was announced that the Australian unemployment rate hits 10 year high to 6%. Read more here
China export figures out this week show signs of defying slowdown
With China making up most of Australian exports this is good news for the Australian Economy. Read more at Bloomberg here.
Euro-Area Economic Growth Figures stronger than expected
France and Germany are keeping the Euro region growing. Click here for the full article
How the RBA can reduce the unemployment rate
Ross Gittins in his article from Saturday, Why the jobs will come though we can't say where. explains how the RBA can reduce the unemployment rate.
So what's the Reserve's "jobs plan"? You ought to know. It's to encourage borrowing and spending on consumption and investment – and, in the process, counter the employment-dampening effect of our still-too-high exchange rate – by keeping interest rates at near-record lows. With any luck, our dollar will fall further as the US Federal Reserve phases out its policy of "quantitative easing" (creating money).
What makes our Reserve so confident doing this will, before too many months have passed, create lots of additional jobs and get the unemployment rate heading back down towards 5 per cent? Well, apart from orthodox economic theory, decades of experience. It's worked every other time, why won't it work now?
As for the government itself, there is more it could be doing to enhance the economy's job-generating capacity. One is to borrow as much as necessary to provide our businesses with adequate public infrastructure and ensure existing infrastructure is used efficiently through such things as appropriate pricing.
Australian Dollar back above 0.90c to 1 USD.
12 month chart below shows where the Aussie dollar has been in the last 12 months. Falling dollar will help exports and hopefully offset any slowdown in the mining sector.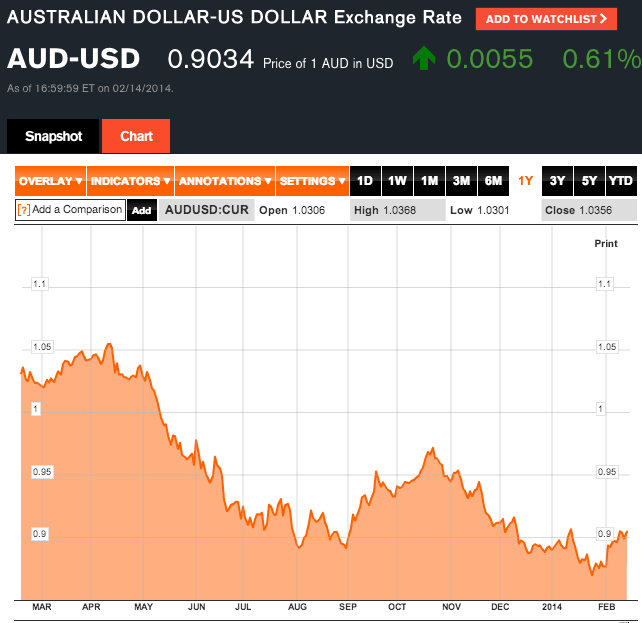 HSC CoWorks offers HSC Tuition and HSC Coaching in Sydney across a number of subjects, including HSC Economics. Our team is made up of a team of HSC experts. Experienced HSC teachers, HSC markers, high achieving ex-students and certified life coaches. We have been a part of successful HSC campaigns since 1996 and in this time we have worked with 1000s of students as they have made the climb up Mount HSC® to get into their dream University course.