At HSC CoWorks our coaches continually stretch and challenge our students, not just providing HSC Tuition, but preparing students for success after the HSC. We actively encourage students to look ahead not just to University but also to their dream career within an inspiring and leading Company. Having this type of long term vision is not only encouraging but is one of the most successful tools our students can use in order to push themselves out of their comfort zone towards a great HSC result.
If you are interested in financial markets or information technology or even better a position at Optiver could be your dream job.
Optiver are a Dutch market making business with offices across the globe including Australia. What does a market maker do? They provide liquidity and depth in financial markets to ensure that investors are always able to trade in financial derivative products (options and futures). Think lots of spreadsheets, lots of computer screens (like 6 to 8 per trader), phones ringing and when the market is open(10am to 4pm) a turbo charged atmosphere.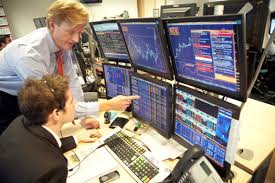 From the Optiver Website: Here's how market making works: a market maker provides a bid and an ask price to the market. The bid price is the price at which the market maker would buy, and the ask price is the price at which the market maker would sell. Pretty straightforward, really!
Market makers are happy to get a hit on either side of their quote, but the ideal result is a hit on our bid and ask price, resulting in a zero position. The profit left over will be the width of the spread he/she has quoted. 
The Sydney office has 160 personnel including one IT professional for every trader. Employee benefits include:
Free gym membership
Weekly massages
Games room(Table tennis – Yes!)
Annual team building trip to places like Thredbo and Hamilton Island
If I were 23 or 24 again with an IT or Finance based major I would love to be accepting a job at Optiver.
Cool company to work for # 1: AirBNB
Cool company to work for #2: Nous Group