The easiest path to getting a great result in HSC Economics is to be actively interested in what is happening with the global and Australian economy as it happens. Economic indicators and policies are analysed on a hourly basis across the globe allowing students to have a constantly evolving text book. We believe that having a finger on the pulse of what is happening with the global economy as well as Australia's economy will allow our students to learn to love what makes the world of business and economics go round.
If you are serious about a Band 6 result in Economics in 2014 then you need to know about the economy of Australia's biggest trading partner, China. This article from the latest issue of the Economist is a great summary of what to expect from China which will largely determine where our own economy will be heading.
This next article looks at how the appeal of China for multinationals is losing its appeal despite still presenting enormous opportunity.
We recommend the following sources for up to the minute Economic Analysis:
1) Bloomberg – The website the financial industry use.
2) The Economist – The original source of Economic analysis
3) Ross Gittins – The Sydney Morning Herald Economics Editor. Ross' easy to understand writing is a must when assessing the performance of the Australian economy.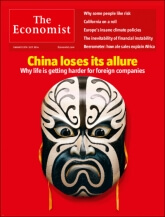 HSC CoWorks provides tuition and coaching in HSC Economics to students at our Bondi and Mosman tuition centres. We have experienced HSC Economics markers who return essays within 72 hours and we have tutors who achieved Band 6 results in Economics who are trained in the NeuroLeadership Brain Based Coaching principles to support our students have their own insights about how Economics works.
HSC CoWorks provides premium HSC tuition and coaching services in conjunction with an interactive online tuition platform, which allows students to be fully supported 24/7. For information on how we can assist you to reach HSC Success, contact us now on 1300 967 890 or make an online enquiry here.