Why HSC CoWorks?
At HSC CoWorks we are not like a 'typical' tutoring company. In fact, we don't tutor at all! That is because we are a coaching company. We acknowledge one crucial fact: "everyone's brain is different" and use this as the foundation for all our neuroscience backed coaching techniques. We do not spoon-feed or content-dump, but rather we ask questions and facilitate lots of WOW moments where students reach their own solutions and insights.

OUR CORE VALUES
Principles to live an awesome life
Here at HSC CoWorks we live and breathe our core values. These are not just empty words written on a plaque on the front desk. These are values deeply embedded in all our coaches, teachers and management team. We live them out to the fullest in both our personal and professional lives. We know that in order to succeed we must maintain our unique culture! Check out our core values to see if they speak to you:
Unite in Vision
Vision! Such a simple but powerful word. HSC CoWorks is not an average organisation, it is an organisation built on Vision. This means that all our employees are not average, they are visionary, they live their life with a vision and they embrace the CoWorks Vision.  A person in Vision has a contagious energy and enthusiasm which motivates everyone else and builds a tribe of team members, students and parents who can and will change the world for the better.
Create WOW Moments
WOW! I mean…WOW! At HSC CoWorks, everything we do, we aim to create a WOW moment! To WOW you must differentiate yourself which means doing something a little unconventional and innovative, you must do something that is above and beyond expectations! Whatever you do, you must have a positive emotional impact on the receiver. People will forget what you said and how you said it, but they will never forget how you made them feel! A WOW moment will be remembered forever!
Be Curious
Curiosity is such a powerful, important factor in today's rapidly changing world, with curious people reaping benefits in all areas of life. Naturally curious people have a never-ending desire to learn, grow themselves and remain open to new ideas and ways of thinking. By being curious about how the world works and how current events link to students' learning you have a much greater chance of creating WOW moments and positive interactions. At HSC CoWorks we aim to foster curiosity and re-ignite passion for learning. In order to do this, we must all be infectiously curious!
Improve Thinking
HSC CoWorks is a coaching organization focused on improving thinking! We do not provide information, because information is in abundant supply, however there is a desperate shortage of quality thinking. Because everyone's brain is different and shaped by every single experience they have ever had, coaching with the brain in mind is the only way to generate real insights and create a truly personalized learning experience.
Leadership from Everyone
"If serving is below you, leadership is beyond you."
Is the leader born or can leadership be taught? While this will be a question for years to come one thing we do know is that operating as a leader to oneself in the first instance and to others in the second is the key to delivering results.
Committing to getting the job done well is leadership. Taking risks to WOW our customers is leadership. Acknowledging your colleague on a job well done is leadership. Showing determination in the face of adversity is leadership. Standing up for what you believe in is leadership. Leadership has little to do with titles or status but everything to do with the actions you take.
Stretch & Challenge
Stretch and challenge is the life and soul of HSC CoWorks. All the magic we are working to create can only happen with stretch and challenge, when we take that step outside our comfort zone. Stretch and challenge means you are willing to stretch and challenge yourself as well as other coaches and students. Through stretch and challenge we can build respect and results with our students and teams!
COMPANY PERKS
We are committed to empowering you and bringing out your full potential so that the skills you learn with us will help you both personally and professionally for years to come.
Professional Development
At HSC CoWorks you will learn all about Coaching techniques which will become a crucial and much sought out skill for your future. Businesses big and small and industries as diverse as banking, consulting, engineering, education and science all really value coaching skills as they enable you to help find fast and effective solutions to problems, get along with many different people and empower other people to take control of their insights. Many large companies do compulsory coaching training with their employees. You will already be one step ahead!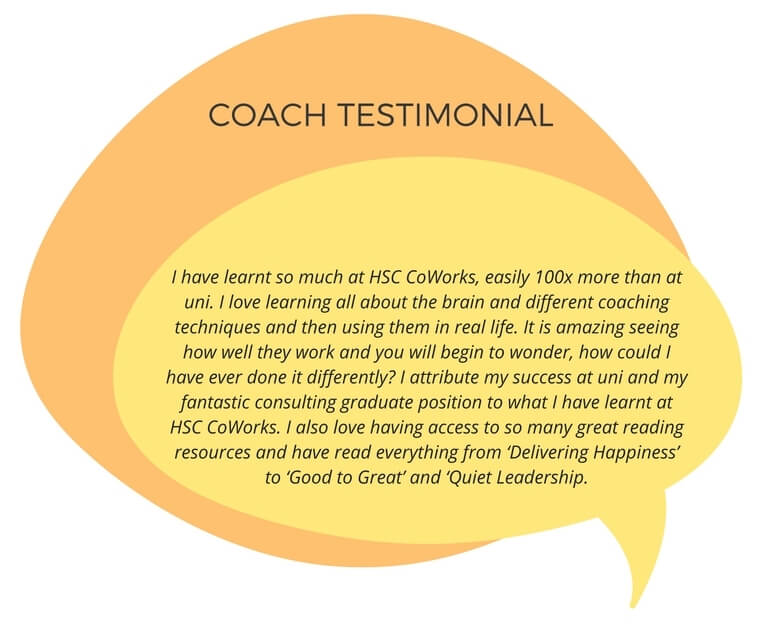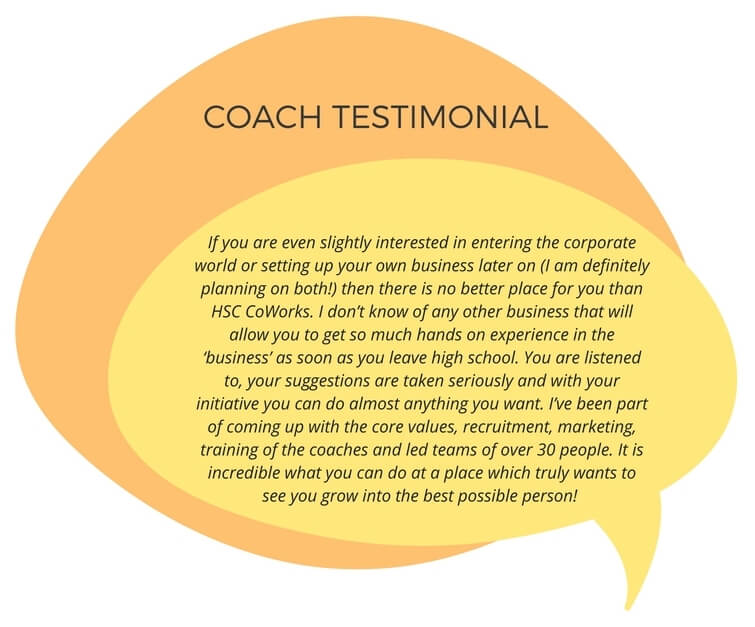 Hands on Business Experience
At HSC CoWorks you will have the opportunity to be involved with many aspects of the business itself. You will work closely with the management team each month, working on aspects as diverse as marketing, social media strategy, staff training and development of new programs and initiatives. There is no limit to what you can learn and achieve. With your initiative you could be responsible for introducing and executing a new initiative and leading both student and coach teams to success.
Financial Rewards
At HSC CoWorks we always recognise our top performers and there are multiple financial rewards and incentives. We have quarterly KPI related awards, fortnightly bonuses and peer chosen awards.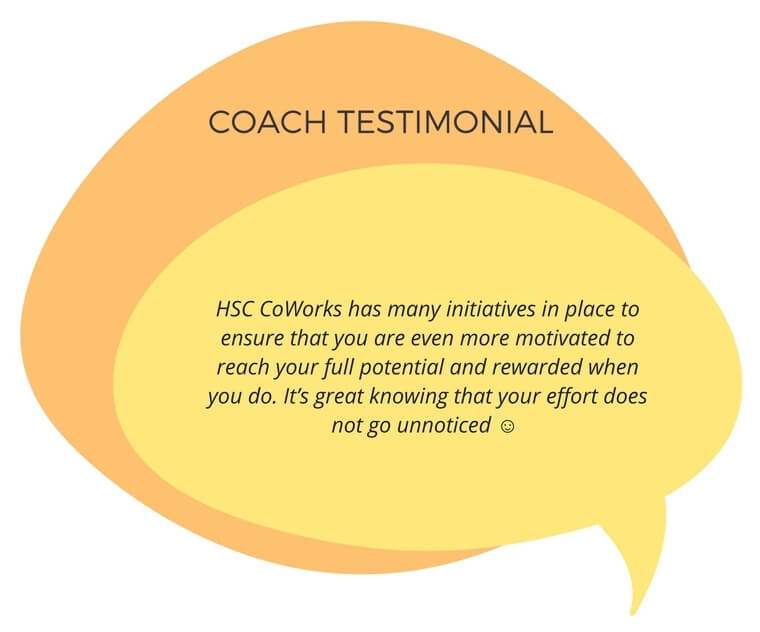 What are the requirements to work in this awesome company?
We are constantly looking out for new people to join our dynamic team. If you satisfy the following, we would love to hear from you!
You do not view HSC CoWorks as 'just a job' and are willing to go the extra mile
You have achieved a minimum ATAR of 95
You are getting excited by reading our core values – you realise you live these core values in your everyday life
You are available for at least 2 shifts per week (Weekday and Weekend session)
You are interested in learning about business
You are naturally curious and love learning new things
You are fascinated by the brain and want to learn coaching techniques
You are excited to do the required background reading on coaching and the brain
You love helping people come to their own solutions
You are enthusiastic, dynamic and always put the interests of the students' first
You are ambitious and have your own Vision and dreams and can pass on this energy and motivation to other people
You are open minded and willing to leave old perceptions and ways of thinking behind
You are a team player
Working at HSC CoWorks is probably not going to work for you:
If you think that your university course is so demanding that it will require your complete commitment.
If you have a part time job elsewhere.
If you see your work with us as simply completing a shift. At HSC CoWorks we are really on a mission to be the benchmark of excellence in the field of student learning.
* ALL COACHING POSITIONS ARE CURRENTLY FULL *