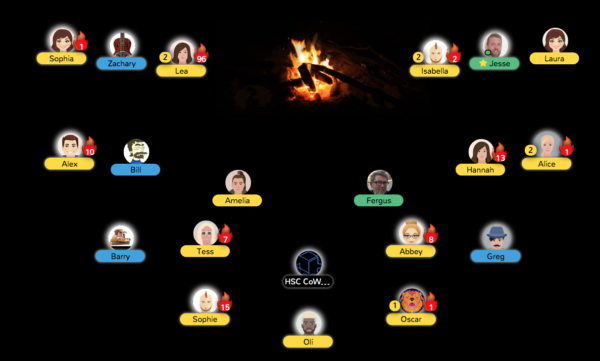 Virtual Campfire – A place for encouragement, accountability and community
I think it's safe to say most people enjoy sitting around a campfire should the opportunity arise. While there is no heat emanating from our newly launched virtual campfire there is energy being provided by seeing who else is online and working right now, how many tasks have been completed by those around the campfire and check ins from our coaches, Fergus and myself.
Features of the virtual campfire:

See which coaches, markers and other students are working right now so you know you're not the only one working right now.  
Chat feature between coaches and students for accountability and encouragement. (Only coaches can initiate a chat at this point). Please note that students are not able to chat with each other.
Trivia events with questions popping up in the campfire space with a Zoom call running concurrently. (First Trivia event is on this Sunday at 5pm for Modern History). 

Change your display name to anything you like to go full stealth (currently only first name is displayed). 
Live Chat Vs Campfire Chat
Reminder that we have 7 day live chat support on every page of the portal for any queries you have around subject specific challenges and any aspect of the HSC CoWorks program.
The Campfire Chat is for quick check ins, encouragement and accountability to be working on those more important tasks.
Looking forward to seeing you around the virtual campfire today. 
Jesse Gardiner
Head Performance Coach