So you have made it through the Trial Exams (or just about for the remaining schools still in their Trials) and hopefully you are happy with the work you have put in and the results you achieved. More importantly you will have learned what worked for you and what didn't work for you so that you can improve your performance for the main event, the final HSC exams.
I see the HSC as simply a life challenge and an amazing opportunity for each and every student to demonstrate how they deal with challenges. Do you stand up to the challenge or do you shy away from the challenge? If you would like to be known as someone who has the ability to stand up to challenges and achieve great things, this is your opportunity to say "Hello world, I am here".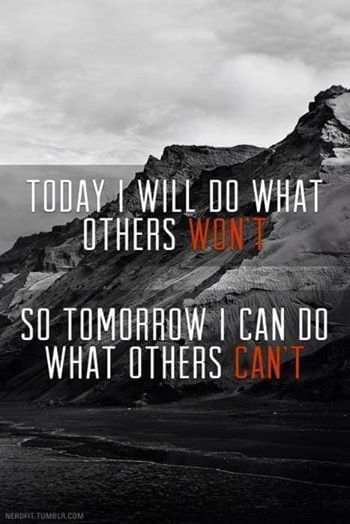 With only 50 or so days until the start of the HSC Exams and your motivation levels probably lower than you would like, your levels of persistence, perseverance, determination, and focus will be put to the test. If you can demonstrate these qualities now, the feeling you get when you walk out of the exam room for the last time will be a feeling that money simply can't buy. This amazing feeling is great but what is even better and what no one can ever take away, is what you have achieved. Just like Mick Fanning winning his 3rd World Title, he will own that achievement for the rest of his life. 
Have you got 50 days of work left in you in the name of having zero regrets?
Tips for continuing the climb to the peak of Mount HSC
Keep your HSC vision front of mind.

As motivational guru Eric Thomas says.. Your "Why am I doing this?" needs to be greater than the inevitable obstacles and challenges that you will encounter across this next 60 days. Write out your goals each day, build a vision board for your bedroom, visualise the feeling you want to have the day the results come out. Whatever you do, don't forget why you are putting in the hard yards.

Consistency is key.

For every day you don't climb Mount HSC and say "tomorrow I will start" you have to make up these steps later in the climb. Far easier to continue your climb bit by bit, day by day rather than put off the inevitable. More work now equals less stress later.

Continue to come to your HSC CoWorks weekday class and your weekend session

. The coaches are here to support you and provide encouragement for you to keep climbing. Our coaches have completed their HSC in the last year or two with incredible results and know what it takes to conquer this mountain so take advantage of their experience.

Have a bank of different types of study tasks which are steps towards the top of your mountain but are less onerous than completing a practice exam or essay.

For example, create and memorise mindmaps for your content rich subjects such as Business Studies, Economics, PDHPE, and Biology. It only takes 5 – 10 minutes to re-write out a mindmap for a whole topic, keeping the material fresh so that when you do have the motivation to complete a practice essay or exam you do not need to learn the material again. Board of Studies online Multiple Choice are another great way to continue the momentum you created with your Trial Exams.

Type up and improve your actual Trial Exam essays and get valuable feedback from the HSC CoWorks marking team.

Now is the time to be submitting your essays and getting the feedback rather than in the two weeks before your final exams. If your essays are sound before September 20th you can use the final few

weeks

of your climb to fine tune and really strengthen them rather than having to work on them when you have so much other work to do. How hard is it really to type up your essays and make improvements?

Get started today!

From our post trials sessions with students, one common theme is that our students have said that they wish they started their proper HSC Trial Exam preparation a week or two earlier. That week or two earlier is right now. Today. See next point as to why NOW is your golden opportunity for this task.

Work hard now so you can enjoy your graduation knowing you are on track.

 With the very exciting and momentous end of school & graduation celebrations happening in the next month, the ability to focus on climbing (study) will be limited for a week or two in some cases.  This places extra importance on putting in the effort NOW so you can enjoy the moment and celebrate.
The climb to the top of Mount HSC is far from over. If you want a feeling that money can't buy then you will need to keep showing up and demonstrating to the world that you have the persistence and perseverance required to achieve your best. It's not going to be easy but I promise it will be worth it.
So with all of that in mind……
What can you do this week that your future self will thank you for?
Jesse
Head Performance Coach
HSC CoWorks