reserve your place – year 12 student (hsc 2022)
reserve your child's place for the YEAR 12 PROGRAM
starting October 2021 (Term 4) 
To reserve your child's place for start in October 2021 on the Year 12 program, please click the button below to register your details and deposit. This will guarantee your child's place for start in October 2021 (Term 4) when they start Year 12.
Your deposit will be used towards your 1st month's fees in October and you will receive the Earlybird monthly fee throughout your child's enrolment. Please click here for details of fees.
If you have any questions prior to enrolling please live chat us from this page or email us at [email protected]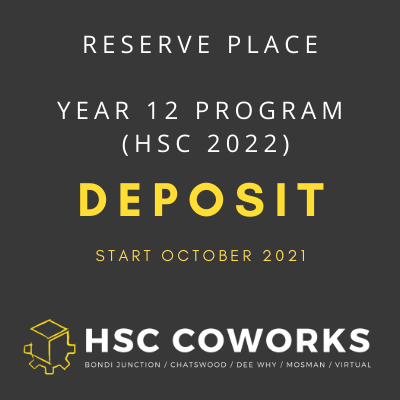 We have been so impressed with the level of coaching and direction Coworks has provided our Year 12 daughter. The accountability through out the year helped her stay on-task constantly. She was as well prepared as she could have been and did her best in each exam. Thank you Jesse and team for all of your support, guidance, encouragement and communication. It made the Year 12 experience a pleasant one for everyone in the family!