Our Story
Jesse & Fergus Gardiner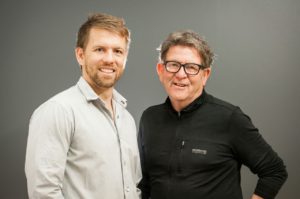 "Give a man a fish and feed him for a day, teach him how to fish and feed him for life."
---
Who We Are
HSC CoWorks is a family run business made up of a team of HSC experts – Experienced HSC teachers, HSC online markers, high achieving university students who received average ATAR of 98+ and certified life coaches.
We provide a premium HSC tuition and coaching service out of our Bondi Junction, Mosman and Lindfield Campuses in conjunction with an interactive online platform which allows students to be fully supported 24/7. Our focus is on building the skills that provide pathways to success and placing great importance on developing students to become independent learners, turning the content they learn at school into high scoring assessment and exam results.
What We Do
We have been a part of successful HSC campaigns since 1996 and in this time we have worked with 1000s of students as they have made the climb up Mount HSC® to not only get into their dream University course but also developing themselves into highly successful independent operators who are ready for their next exciting challenge.
Given that we live in a global environment we believe that our behaviours, starting with the skills achieved in gaining a great HSC result will give our students significant leverage beyond the HSC. As we enter the "Age of Thinking" beyond the "Age of Memorisation" as a means of driving opportunity, our responsibility is to embrace this. At HSC CoWorks we are not intimidated by the future; we embrace it.
Are you looking for a tuition service that will:
Support your child with assessment tasks and essays?
Coach your child in a large range of subjects?
Provide motivation, accountability and planning techniques?
Develop your child into an independent operator?
Provide your child with confidence and a skill set that will lead to success in the HSC and in the future?
Face to Face or Online packages available:
Face to Face tuition support for 5hrs/wk in over 20 subjects. Students can work on multiple subjects during a session.
An interactive online platform with access to HSC resources, online testing in a range of subjects and an essay marking service.
Develop strategies for life-long success such as time management, motivation/vision, planning and accountability.
Our Philosophy
Our mission statement is "To create highly successful independent learners". Being an independent learner is the central element in gaining a great ATAR. Rather than simply telling our students the answers (passive learning) we coach students to develop their own insights so they can take ownership of their outcomes so both skills and knowledge are richly embedded in their brain.
At HSC CoWorks we teach the necessary study skills, provide ongoing motivation, support the assessment task process, prepare students for the exam room and provide a cutting edge learning space for students who want to do well.
Our coaching and teaching methods are based on the latest research in NeuroScience with our team being trained by the global human performance consultancy, NeuroLeadership Group.